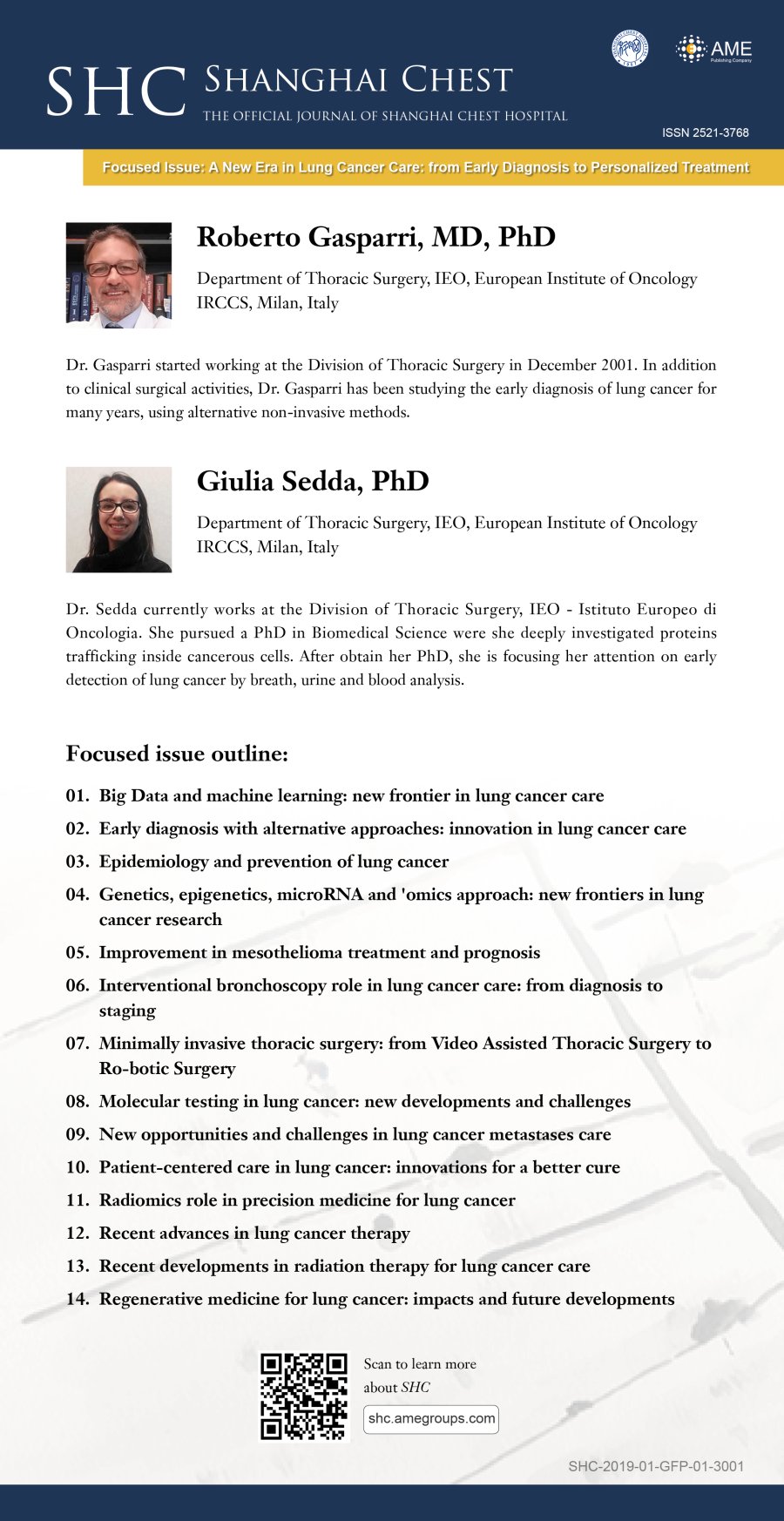 Focused issue on "A New Era in Lung Cancer Care: from Early Diagnosis to Personalized Treatment" is edited by Dr. Roberto Gasparri and Dr. Giulia Sedda, from Department of Thoracic Surgery, IEO, European Institute of Oncology IRCCS, Milan, Italy
Dr. Roberto Gasparri started working at the Division of Thoracic Surgery in December 2001. In addition to clinical surgical activities, Dr. Gasparri has been studying the early diagnosis of lung cancer for many years, using alternative non-invasive methods.
Dr. Giulia Sedda currently works at the Division of Thoracic Surgery, IEO - Istituto Europeo di Oncologia. She pursued a PhD in Biomedical Science were she deeply investigated proteins trafficking inside cancerous cells. After obtain her PhD, she is focusing her attention on early detection of lung cancer by breath, urine and blood analysis.
Focused issue outline:
Big Data and machine learning: new frontier in lung cancer care
Early diagnosis with alternative approaches: innovation in lung cancer care
Epidemiology and prevention of lung cancer
Genetics, epigenetics, microRNA and 'omics approach: new frontiers in lung cancer research
Improvement in mesothelioma treatment and prognosis
Interventional bronchoscopy role in lung cancer care: from diagnosis to staging
Minimally invasive thoracic surgery: from Video Assisted Thoracic Surgery to Robotic Surgery
Molecular testing in lung cancer: new developments and challenges
New opportunities and challenges in lung cancer metastases care
Patient-centered care in lung cancer: innovations for a better cure
Radiomics role in precision medicine for lung cancer
Recent advances in lung cancer therapy
Recent developments in radiation therapy for lung cancer care
Regenerative medicine for lung cancer: impacts and future developments