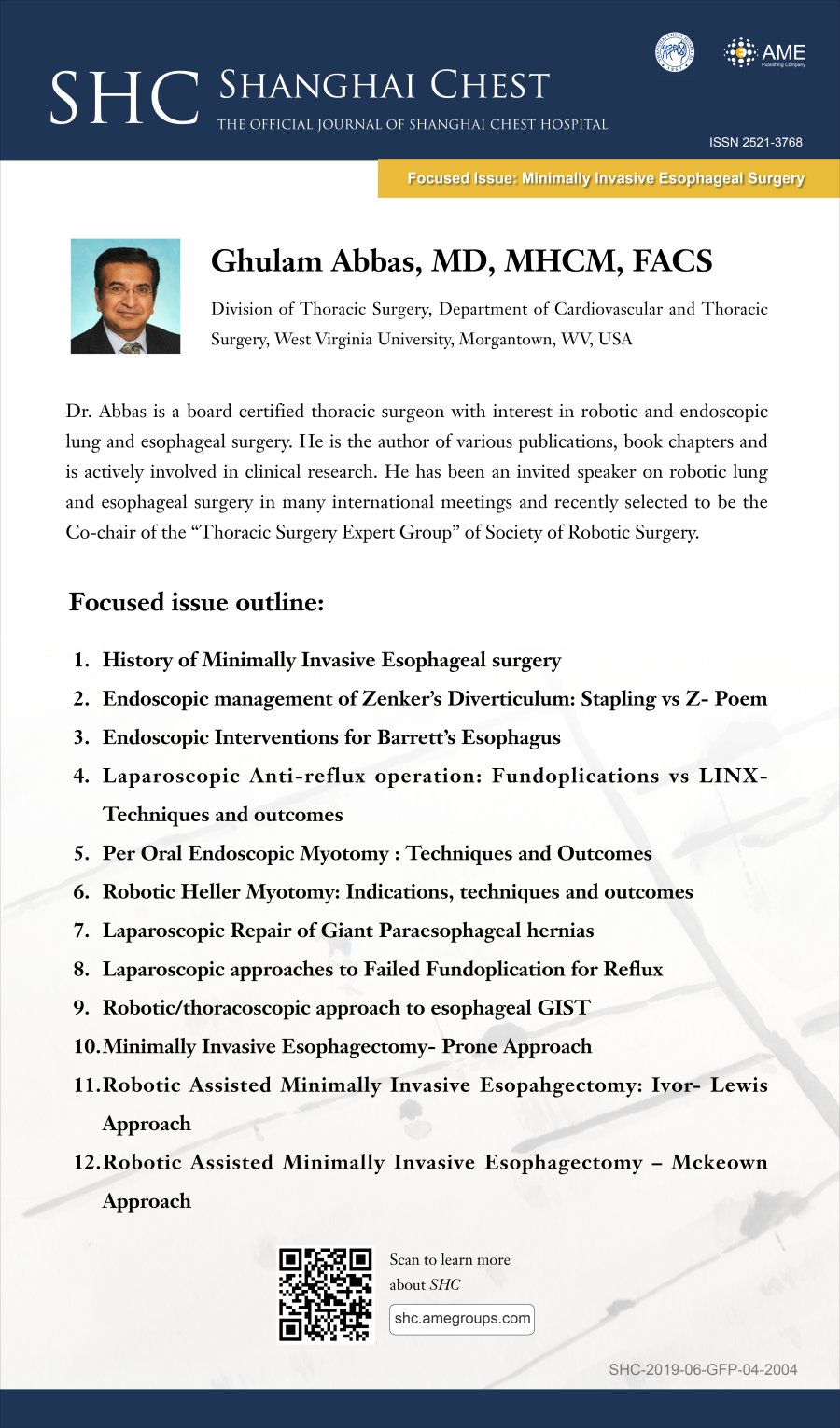 This focused issue is edited by Dr. Ghulam Abbas, from Division of Thoracic Surgery, Department of Cardiovascular and Thoracic Surgery, West Virginia University, Morgantown, WV, USA.
Dr. Abbas is a board certified thoracic surgeon with interest in robotic and endoscopic lung and esophageal surgery. He is the author of various publications, book chapters and is actively involved in clinical research. He has been an invited speaker on robotic lung and esophageal surgery in many international meetings and recently selected to be the Co-chair of the "Thoracic Surgery Expert Group" of Society of Robotic Surgery.
Focused issue outline:
History of Minimally Invasive Esophageal surgery
Endoscopic management of Zenker's Diverticulum: Stapling vs Z- Poem
Endoscopic Interventions for Barrett's Esophagus
Laparoscopic Anti-reflux operation: Fundoplications vs LINX- Techniques and outcomes
Per Oral Endoscopic Myotomy: Techniques and Outcomes
Robotic Heller Myotomy: Indications, techniques and outcomes
Laparoscopic Repair of Giant Paraesophageal hernias
Laparoscopic approaches to Failed Fundoplication for Reflux
Robotic/thoracoscopic approach to esophageal GIST
Minimally Invasive Esophagectomy- Prone Approach
Robotic Assisted Minimally Invasive Esopahgectomy: Ivor- Lewis Approach
Robotic Assisted Minimally Invasive Esophagectomy – Mckeown Approach
Disclosure:

The series "Minimally Invasive Esophageal Surgery" was commissioned by the editorial office, Shanghai Chest without any sponsorship or funding. Ghulam Abbas is serving as the unpaid Guest Editor for the series.