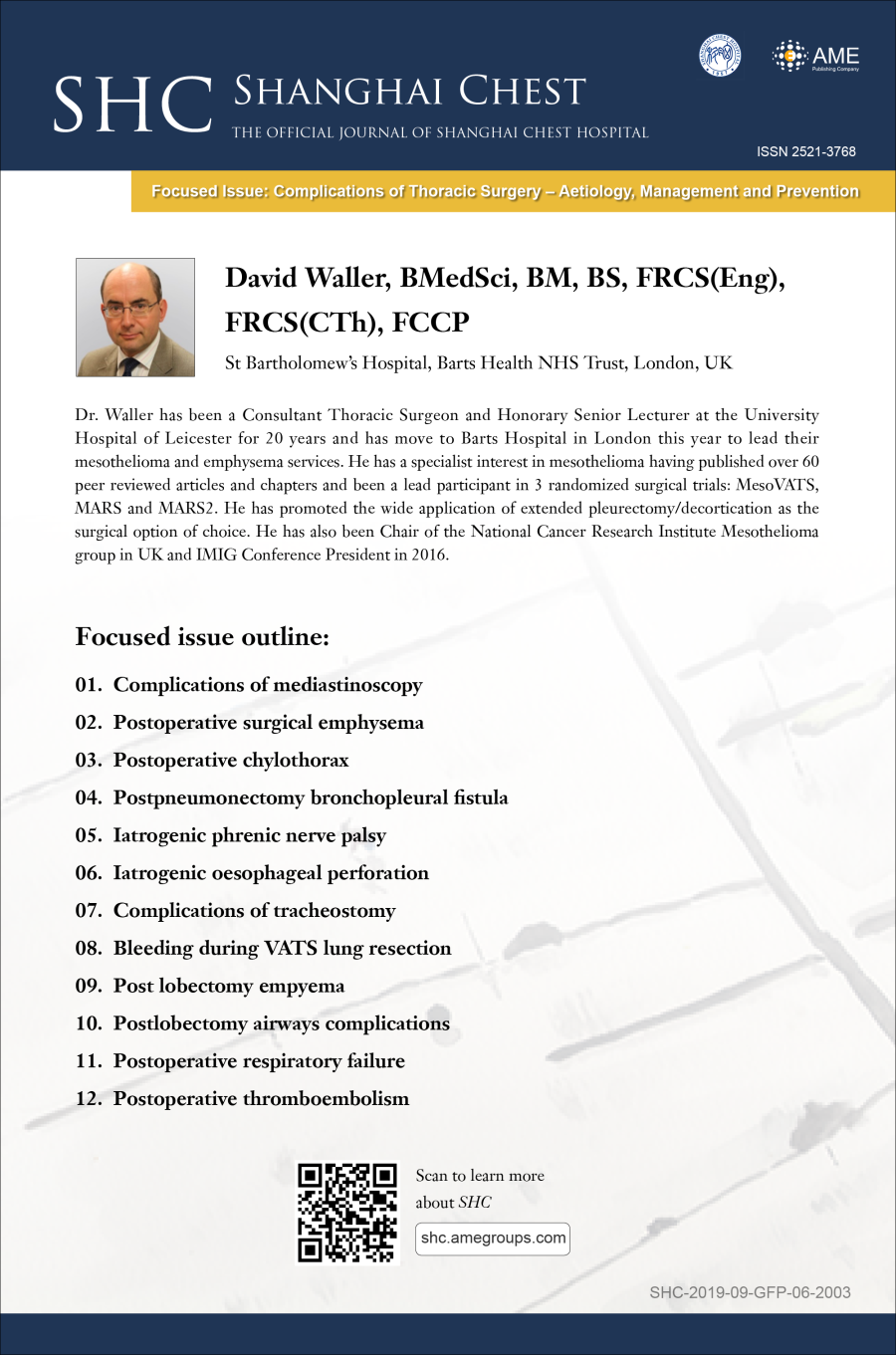 This focused issue on "Complications of Thoracic Surgery – Aetiology, Management and Prevention" is edited by Dr. David Waller from St Bartholomew's Hospital, Barts Health NHS Trust, London, UK.
This focused issue is designed to discuss several complications of thoracic surgery including aetiology, management and prevention. In this issue, we review recent literature, provides expert insight into current practice, and also identifies future directions.
David Waller, BMedSci, BM, BS, FRCS(Eng), FRCS(CTh), FCCP
St Bartholomew's Hospital, Barts Health NHS Trust, London, UK
Dr. Waller has been a Consultant Thoracic Surgeon and Honorary Senior Lecturer at the University Hospital of Leicester for 20 years and has move to Barts Hospital in London this year to lead their mesothelioma and emphysema services. He has a specialist interest in mesothelioma having published over 60 peer reviewed articles and chapters and been a lead participant in 3 randomized surgical trials: MesoVATS, MARS and MARS2. He has promoted the wide application of extended pleurectomy/decortication as the surgical option of choice. He has also been Chair of the National Cancer Research Institute Mesothelioma group in UK and IMIG Conference President in 2016.
Focused issue outline:
Complications of mediastinoscopy

Postoperative surgical emphysema

Postoperative chylothorax

Postpneumonectomy bronchopleural fistula

Iatrogenic phrenic nerve palsy

Iatrogenic oesophageal perforation

Complications of tracheostomy

Bleeding during VATS lung resection

Post lobectomy empyema

Postlobectomy airways complications

Postoperative respiratory failure

Postoperative thromboembolism
Disclosure:

The series "Complications of Thoracic Surgery: Aetiology, Management and Prevention" was commissioned by the editorial office, Shanghai Chest without any sponsorship or funding. David Waller is serving as the unpaid Guest Editor for the series.