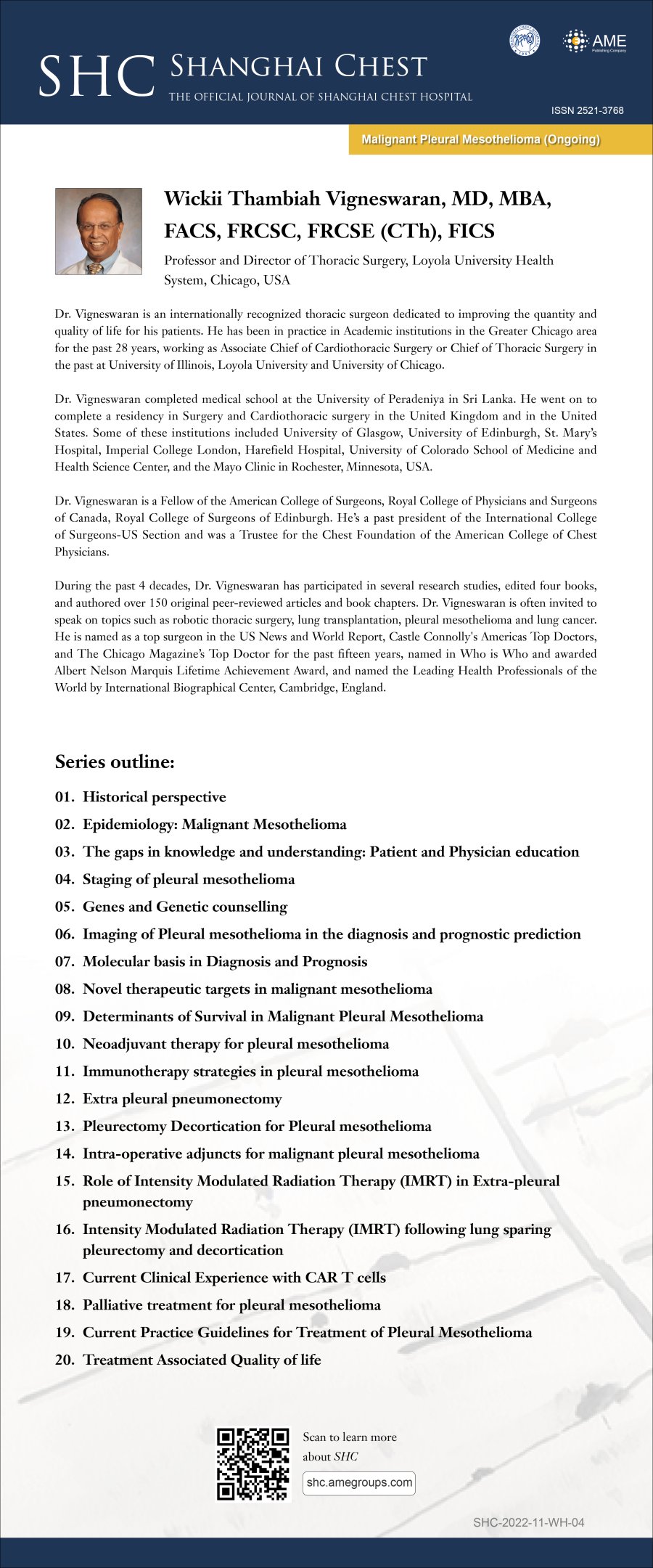 The series on "Malignant Pleural Mesothelioma" is edited by Prof. Wickii T. Vigneswaran from Loyola University Health System (USA).
Wickii Thambiah Vigneswaran, MD, MBA, FACS, FRCSC, FRCSE (CTh), FICS
Professor and Director of Thoracic Surgery, Loyola University Health System, Chicago, USA
Dr. Vigneswaran is an internationally recognized thoracic surgeon dedicated to improving the quantity and quality of life for his patients. He has been in practice in Academic institutions in the Greater Chicago area for the past 28 years, working as Associate Chief of Cardiothoracic Surgery or Chief of Thoracic Surgery in the past at University of Illinois, Loyola University and University of Chicago.
Dr. Vigneswaran completed medical school at the University of Peradeniya in Sri Lanka. He went on to complete a residency in Surgery and Cardiothoracic surgery in the United Kingdom and in the United States. Some of these institutions included University of Glasgow, University of Edinburgh, St. Mary's Hospital, Imperial College London, Harefield Hospital, University of Colorado School of Medicine and Health Science Center, and the Mayo Clinic in Rochester, Minnesota, USA.
Dr. Vigneswaran is a Fellow of the American College of Surgeons, Royal College of Physicians and Surgeons of Canada, Royal College of Surgeons of Edinburgh. He's a past president of the International College of Surgeons-US Section and was a Trustee for the Chest Foundation of the American College of Chest Physicians.
During the past 4 decades, Dr. Vigneswaran has participated in several research studies, edited four books, and authored over 150 original peer-reviewed articles and book chapters. Dr. Vigneswaran is often invited to speak on topics such as robotic thoracic surgery, lung transplantation, pleural mesothelioma and lung cancer. He is named as a top surgeon in the US News and World Report, Castle Connolly's Americas Top Doctors, and The Chicago Magazine's Top Doctor for the past fifteen years, named in Who is Who and awarded Albert Nelson Marquis Lifetime Achievement Award, and named the Leading Health Professionals of the World by International Biographical Center, Cambridge, England.
Series outline:
Historical perspective
Epidemiology: Malignant Mesothelioma
The gaps in knowledge and understanding: Patient and Physician education
Staging of pleural mesothelioma
Genes and Genetic counselling
Imaging of Pleural mesothelioma in the diagnosis and prognostic prediction
Molecular basis in Diagnosis and Prognosis
Novel therapeutic targets in malignant mesothelioma
Determinants of Survival in Malignant Pleural Mesothelioma
Neoadjuvant therapy for pleural mesothelioma
Immunotherapy strategies in pleural mesothelioma
Extra pleural pneumonectomy
Pleurectomy Decortication for Pleural mesothelioma
Intra-operative adjuncts for malignant pleural mesothelioma
Role of Intensity Modulated Radiation Therapy (IMRT) in Extra-pleural pneumonectomy
Intensity Modulated Radiation Therapy (IMRT) following lung sparing pleurectomy and decortication
Current Clinical Experience with CAR T cells
Palliative treatment for pleural mesothelioma
Current Practice Guidelines for Treatment of Pleural Mesothelioma

Treatment Associated Quality of life
Disclosure:
The special series "Malignant Pleural Mesothelioma" was commissioned by the editorial office, Shanghai Chest without any funding or sponsorship. Wickii T. Vigneswaran is serving as an unpaid Guest Editor for the special series.